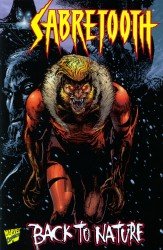 Sabretooth - Back to Nature
Marvel publisher
Pages: 51
1998 year
English comics
Size: 21.3 mb.
Despite the fact that the book is called " Back to Nature " , another name for "Homicidal Tendencies" , is located inside the comic. This comic consists of a prologue and three chapters:
Prologue: In Estevan Point , a small coastal town in the island of Vancouver in British Columbia, Canada , a young married couple , Peter Bedford and his girlfriend Lori Bradt, scoring a madman .
Chapter 1 - The meeting : Wildchild and Sabretooth are located in the boundary Falls, Virginia. This is where Wildchild learns the news about cutting his friends and agrees to team up with Sabretooth go after the ones who did it. Men , that they are going after two brothers who were once professional killers for the U.S. government , Komorowski and Yuri Yevgraf .
Sabretooth and Wildchild visit the ranch Bradt family to Vancouver to try to talk with her younger sister Leisel Laurie, but they have no luck talking to her , and forced to leave. The next place they go to a place where the murder took place and Sabretooth reconstructs the events of the crime , and determines that they are brothers Yevgraf heading inland . They visit several motels and bars to find out exactly where they are going and eventually find out that they were going to hide the brothers for some time in Hunlen Falls.
Chapter 2 - The Hunted: Sabretooth and Wildchild dognatEvgrafa brothers and fight with them, but Komorowski shoots and Yuri was injured badly. Leisel uses his shotgun to help in the fight against the brothers and Yevgraf come to the aid of Sabretooths in kontseglavy .
Chapter 3 - The game of hide and seek : Wildchild, Sabretooth and Leisel team and Yevgraf Brothers and seek to find their hiding outdated slaughter. When Yevgraf brothers were killed , their bodies are positioned so that it appears to have died from an accident.