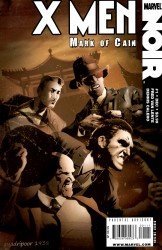 X-Men Noir - Mark of Cain #01-04 Complete
Collections / Marvel publisher
Pages: 4 issues
2010 year
English comics
Size: 58.4 mb.
A few months after the events of the welfare Pen, lawmakers are concerned about the controversial U.S. extraterritorial Genosha Bay prison for his alleged inhuman treatment of their prisoners , and seek to close it forever. At a hearing in the Senate, Senator Robert Kelly defended the prison, saying that it was necessary, in the logic of eugenics , to keep prisoners extreme cases of sociopathic "infect " them on the nature of normal prisoners in normal prisons. Despite this , the legislators still intend to close the Genosha Bay, but will not allow its perpetrators were put on the U.S. mainland. More news , Professor Charles Xavier , imprisoned for teaching their patients to become better criminals , released as the people who testified against , including the main witness , Eric Magnus, were killed. "Professor of Crime" passed on the news that he is innocent and vows to ensure justice for those who killed his friend Magnus .