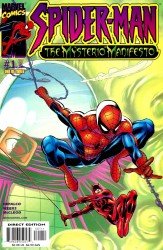 Spider-man - The Mysterio Manifesto #01-03 Complete
Collections / Marvel publisher
Pages: 3 issues
2001 year
English comics
Size: 15.8 mb.
Peter neighbor Randy Robertson wakes him poslepreryvisty sleep. Despite his reluctance , he knows that he has to get up and find something newsworthy to photograph in order to pay the bills. He makes his way to the roof, check around, and changes in Spider-Man. Then he begins to search for the city.
After the trial , Matt Murdock in Daredevil changes and makes its way through the city. It barely covers several blocks , when he is attacked by Spider-Man. DD is trying to avoid a fight , but no choice . It sets the Spider-Man naDalney attacks with his club Billy. It hits him in the head , making him unconscious , causing him to fall to the side of the street. When DD rushes to check it , there is no body .
J. Jonah Jameson izEzhednevno Bugle kidnapped by someone identifying themselves as "Mad Jack ." Jack uses the fact that the illusion of a variation on the technology Mysterio . He explains that a great injustice has been committed to Quentin Beck. Despite claims that Jonah Beck is dead , Jack reminds him that Mysterio is more than capable to fake his own death.
Daredevil is the real Spider-Man and explains his encounter with the fake Spider-Man before. Spider quickly shows that Mysterio is behind the attack. Daredevil reminds him that he witnessed the suicide Mysterio . Spider-Man is not convinced that he really is dead, and insists that more evidence needed to convince him . He had seen more than a few people come back from the dead before.
Spider remember that Beck was a girl named Betty Schneider. She created an empire based on her relationship with Mysterio . He suggests that he and Daredevil to check into it to see if they can find any clues .
In the curve of Mad Jack , Jack sits on the bench caressing her black cat. He has a one-sided conversation skostyum Mysterio . He places the consideration of the scheme with "Mr. " when he realizes that he has left is Betty Schneider . He then sets out to correct supervision.
In her office , Betty reviews her latest designs toys with his partner Joe Smith . He questioned the legality of the merger Mysterio likeness with that of other characters. As she rationalizes her decision to profit from its relationship with Beck , toys come to life and attack her . The human figure is the torch Nova and their world becomes a pure white light.
While on the way to find Schneider, Spider and DD are attacked by mechanical bats. How are they protected , bats produce a chemical that confuses them and contains the hallucinogenic . The last thing Spider-Man remembers is being absorbed by a giant bat .
When he regains consciousness , he returned to the penthouse that he and MJ shared. MJ is alive and tells him that the "child" and Aunt May are still asleep .