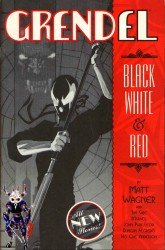 Grendel - Black, White & Red #01-04 Complete
Grendel . Synonymous with crime and violence. Hunter Rose. Names familiar with wealth and privilege. Grendel : Black , white, and red is the highly anticipated series, which brings together an impressive array of talented artists , led by creator Matt Wagner. Wagner wrote these tales of punishment and revenge , corruption and despair , is shown in black-and- white- red- art John Paul Leon ( Applicants Unknown) , Tim Sale (Batman: The Long Halloween), Duncan Fegredo (Jay & Silent Bob ) , D'Israeli (House of secrets ) and Ho Che Anderson (Young Hoods in love) . When dealing with the devil , the least he will take your soul!
" Devil's Advocate " (Tim Sale) tells the story of how a good man blackmailed into becoming a lawyer Grendel , having lost everything he cared about in the process.
In "Mate devil " ( D'Israeli ) , Hunter explains the complexity shahmatnezainteresovannyh Stacy, while in flashback , he kills people who ???????°???»?????'???µ???????µ?????µ???????»?µ?'?????µ brothel. Then he calls Argent said that he was going to kill Everett Christie, who takes part in a brothel. This phone call is the very first appearance in the Grendel Comico Primer ?"– 2 starts .
"Toll devil " (JP Leon) ?????»???µ?'?????????????µ???????????????'???‡?µ???????µ a series of images , in a word on the panel, which show falling crime lord that is contrary to the Grendel .
"The language of the devil " (Duncan Fegredo) shows Grendel torture low level criminal information okonkuriruyuschih smuggling.
" Thrush is the devil " (Ho Che Anderson ) is about a failed singer stretched out on drugs. Hunter knew it in the old days and, surprisingly , pitied her , telling her to talk to cancel the money she owes him . However, she kills herself before she finds out.