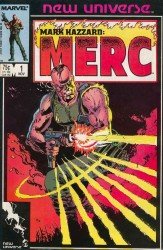 Mark Hazzard Merc #01-12 + Annual Complete
Collections / Marvel publisher
Pages: 13 issues
1986-1987 year
English comics
Size: 123.6 mb.
Hard as nails , and just as painful, if you stepped on it , Mark Hazzard gun is for vehicles hired gun . However , Mark could not just work for everyone as his own principles prevented him from doing the dirty work for a heartless evil people. When he was at work and his employers were so , Mark always put them in their place , often killing them directly.
While it did not cause the end of a disappointment for the other fellows in the mercenary crew of Mark, he slowly began to rub off on them , and eventually , Marc profoundly affected the work habits and remorse of those who fought with him - of course , he had shoot one or two of them to see the world . However, as true friends , they got about it and love people.
That's why when Hazzard was a new husband of his ex-wife in Iran , all his military friends got together and went to rescue him - they would have realized that there was more to life than just money . In fact, after they rescued him from this mess , many of them continued training of freedom fighters in the art of combat, though Hazzard did not live to see it.