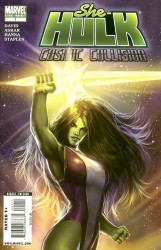 She-Hulk - Cosmic Collision
This double-sized sci-fi spectacular, guest-starring the Lady Liberators (fresh from the pages of The Hulk) and the female heroes from the Guardians of the Galaxy! When She-Hulk finds herself suddenly transmit to the world, it's up to her and a collection of the universe's most powerful heroines including Storm, Tundra, Valkyre and the Invisible Woman - to figure out what's going on ... before a brand new enemy destroys them!
This issue is notable for being the first time since the abolition of Captain Marvel. 4/5, that Phylla-Vell / Quasar was written by its creator, Peter David.