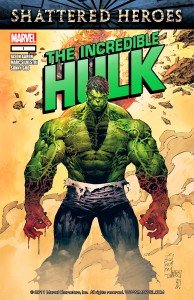 Incredible Hulk
Marvel publisher
Pages: 121
English comics
Size: 114 mb.
Tags:
After Fear itself , Hulk went into hiding , seemingly safe from a world that hates and fears him. But when [REDACTED ] knocking , the Hulk has no choice but to return to war against the one man whose existence threatens the safety of every person on Earth ... [REDACTED ] .
Some of the highlights of the release :
Hulk was hiding from the rest of the world , hanging out in Subterranea with new friends (Moloids).
He spends his days fighting large underground creatures , thus " bringing home the bacon ."
Hulk smiles.
Hulk and friends concerned about during dinner Amanda Von Doom (and its team of Mad).
Hulk Smash.
Amanda has some disturbing news about someone formerly close to the Hulk.
A mad scientist (Banner) is busy trying to recreate the Hulk on his own , " The Island of Dr. Banner ."
This mad scientist has a very scary and powerful set of objects , ready to do anything for him.
This mad scientist is enough to get the Hulk in a mess the next issue