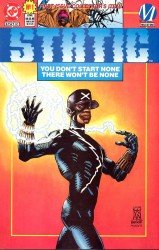 Static #01-45 Complete
Collections / DC publisher
Pages: 45 issues
1993-1997 year
English comics
Size: 451.8 mb.
Static was a comic production milestone in DC and followed an African -American teen named Virgil Ovid Hawkins, otherwise known as staticheskie.Komicheskogo should Virgil as he tries to overcome the problem of teenage and before hitting the babies that threaten Dakota. Virgil himself explosion child , and like all the others , it was created by an incident known as the Big Bang which was later revealed to be organized in a higher power . Static eventually partner with a girl named Dusk who has a darker way of dealing with criminals , but when she finally shot it leaves Dakota. Personal problems faced by Virgil through the series, rejected by his best friend , his girlfriend move, discovering one of his friends is gay, and losing a friend , who is revealed to be a drug dealer . The comic was canceled , along with all the other Milestone comics in 1997 .