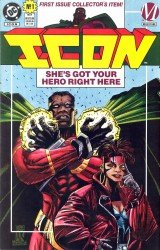 Icon #01-42 Complete
Collections / DC publisher
Pages: 42 issues
1993-1997 year
English comics
Size: 546 mb.
In 1839 , an alien crashes and Starliner vzorvalsya.Otbrosil life Pod crashed in a cotton field in the Deep South. The pod was equipped with a unique mechanism of survival, which was programmed to adjust the genetic structure of its passengers to meet all forms of life, he first encountered . And so it happened that Miriam , a slave who found Pod, located inside the boy's eyes with his mother. Today , the alien is still alive, in the image of a successful lawyer in August Freeman IV Dakota . However landed , he was waiting for the Earth technology to catch up with his life consoles . Secretly have superpowers , he quietly does not help those in need, to the recent events in Dakota - and the arguments of certain self-confident young woman - to force it to become more than just quietly to each community. He puts on a costume to become an icon , a hero of Dakota.