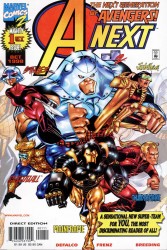 A-Next #01-12 Complete
Collections / Marvel publisher
Pages: 12 issues
1995-1999 year
English comics
Size: 249.6 mb.
This eighteenth birthday Kevin Masterson . Jarvis urges the son of former Avenger Eric Masterson, to give the young man 's father enchanted mace , Thunderstrike. As Kevin leaves some big bandits trying to steal the mace , revealing himself literal monsters . Jarvis activates defenses complex , buying enough time for the reserve Avengers to show .
Several heroes answer the call : Jubilee , Speedball, Jolt, Stinger and mainframes. Zane Yama sees the bad guys outside and changes in J2 heroes lend a hand. All seems to be going well for the hosts when Loki comes magically constrains group and teleports them, along with Thunderstrike, in his lair .
While Loki busy mainframe tells others he is confident that he can break out of the limitations of free. All he needs is a distraction ... so Kevin gives him one for running and grabbing mace from Loki. There is a flash of light and stands transformed as the new Thunderstrike! Even with this new ally , the characters seem to be overwhelmed by Kevin does not send a blast to the sky , which calls Mighty Thor .
Villains beat a hasty retreat and Thor returns heroes to the Avengers compound. He notes that ten years is too long for the earth to be without his powerful heroes . Mainframe agrees, but some of the reservists to see where it's heading. Jubilee should return to Uncanny X- Men , Speedball prefers to work alone and push retirement.
However, this still leaves four young heroes to be a new generation of Avengers !