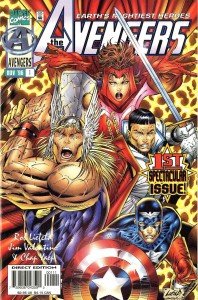 Avengers Vol.2 #01-13 Complete
Continuation of the Avengers. 1. During the onslaught saga, many heroes have died from the known world. They are presumed dead, but in reality, they were teleported to a pocket universe created by Franklin Richards unconsciously.
When they were here, they did not know about his previous life and their place in the world.
This volume includes the exploits of the Avengers team during the "Heroes Reborn" story arc.
After 13 questions heroes return to their own reality and the title continues in Avengers v.3.