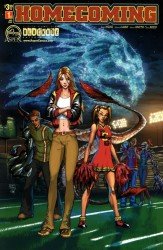 Homecoming #01-04 Complete
No one ever said being a teenager was easy ...
Just when you thought it was safe to go back to high school ... Aspen Comics proudly presents the all-new series created by Michael Turner , Scott Lobdell , and David Wohl . HOMECOMING!
Hunter Wilson just an average American teenager in the average American city, but when the beautiful and comes amnesiac Celeste in his yard , life will change forever the hunter . He discovers that Celeste disappeared from the very same house 10 years ago, and now she is back with little memory of who she was - but with a strange , fantastic abilities and knowledge that dark forces are rapidly approaching!
Now , the hunter must Celeste help restore her memory , as he tries to keep himself and his friends are safe - and if that was not difficult enough , Homecoming in a week , and he does not have a date to the dance yet!