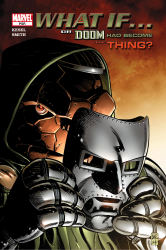 What If - Dr. Doom had become the Thing #01
Marvel publisher
Pages: 26
2004 year
English comics
Size: 52.4 mb.
How could a strong member of the Fantastic Four also be their deadliest enemy? At first glance minor decision made long before the FF even existed, might have changed everything for the World Greatest Super -Team, Victor Von Doom ... and even the Incredible Hulk ! And that's just the beginning ...
This Space Victor Von Doom up in a spaceship instead of Reed Ben Grimm . Shuttle crashed during gamma bomb test site and the fight broke out between Reed Richards and Doom when Doom has become a thing. The fight goes into the ground, where Ben Grimm works as Sgt. in the army. Spotting Reid he cometh to save his friend and gets doused with gamma radiation becomes the Hulk . Hulk makes short work of fate and once again began to calm down reeds Ben Grimm and Reed decided to join the Fantastic Four.