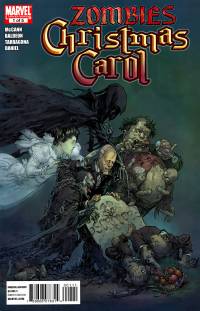 Marvel Zombies Christmas Carol #01-05 Complete
Collections / Marvel publisher
Pages: 5 issues
2011 year
English comics
Size: 166 mb.
Gather your family close , board up the doors , and heed well the story of Ebeneezer Scrooge - a man for whom the fire could warm , whose cold heart pumped ice through his veins , and whose lips uttered a firm Bah! to any kind of happiness. Learn from his experience as he visits the undead corpse of his old friend Jacob Marley on Christmas Eve , and join him on his journey to Christmas past aided by another corpse intent on showing Scrooge the origin of starvation , consuming the earth. God help us , everyone!