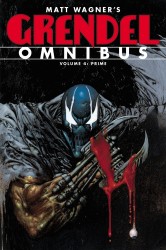 Grendel Omnibus Vol.4 - Prime
Dark Horse publisher
Pages: 541
2013 year
English comics
Size: 805 mb.
The world belongs to Grendel - Khan Orion Assante and his elite warrior caste of Grendels, but when Orion dies , the world thrown into chaos. To protect the young Jupiter Assante , the rightful heir to the throne, those who are still loyal to Grendel Khan should refer to the new government , the terrifying Grendel Prime! Paladin Orion cyborg story unfolds in War Child, Devil Quest, and Past Prime, three stories that form the apotheosis of innovative Wagner , centuries spanning epic !
War Child won the Eisner Award for Best Limited Series !
Includes former prime novel written by Greg Rucka and illustrated by Wagner !