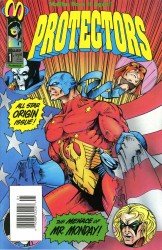 Protectors #01-20 + Handbook Complete
Other / Collections publisher
Pages: 21 issues
1992-1994 year
English comics
Size: 327.2 mb.
A criminal named Mr. Monday and his army were continuing to attack a number of sites in Washington, DC, killing many people . Mr. Monday expressed how he did not stop until he sees the total destruction of Washington , DC. The President of the United States of America , Brian O'Brien , a former superhero known as clock. With the occurrence of attacks Monday, Mr. Brian O'Brien gets a visit from another superhero named cemetery. Together they decided that they should be the superhero team that answers naotvetstvennoe source. Three weeks later, President O'Brien prizyvaetbyvshego superhero known as the Night Masks , Philip Reinhart to meet him. During the meeting, President Philip Reinhart reports that the government is starting a superhero team to battle the threat as Mr. Monday, and he wants Mr. Reinhart bytkomandy coordinator and Mr. Reinhart agrees. The Chairman then informed Mr. Reinhart , he had already contacted some chlenamikomandy , and they are on a training mission at the moment. Those members , including arcs , Air Man, and Man of War cemetery to visit a dangerous neighborhood and ostanovitnarkosdelki incurred. After the mission , the group meets Mr. Reinhart and is surprised to find a new member to join so soon , his own son , Mr. Reinhart . He takes on the mantle of the Night Masks and was approved by the President himself , much to the chagrin of Mr. Reinhart . However , it can only allow his son to join the team , and he becomes their new member. Meanwhile, the president visits the cemetery , and they reflect the idea priglasitFerret to join the team .