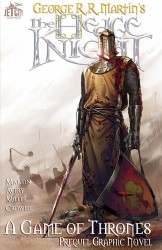 The Hedge Knight - The Graphic Novel
Other publisher
Pages: 183
2013 year
English comics
Size: 225.1 mb.
Set one hundred years before the events in the epic fantasy series by George Martin , A Song of Ice and Fire , Hedge Knight graphic novel chronicling a young squire as he travels cruel and difficult path to knighthood in the Seven Kingdoms .
Without letting go of the fallen master sword and shield , Duncan (or " Dunk " ) intends to reinvent himself as a knight in a nearby tournament. But first dunk needs a sponsor, and this requirement sends him on the road studded with friends, enemies, adventures and hidden agendas . One such friend Egg , who will squire Dunk, and yet even he may hold the secret motives of his own.
In this thrilling prequel , Dunk and Egg seeking glory in the world both familiar and new to Game of Thrones fans. The fact that two fortune seekers face , however, is a world of distrust and political machinations . Chivalry is not lost while Dunk kept his dream of honor. But such outdated virtues make him a target , and may even lead to his death . It is bright and elaborately wrought tale brings a new dimension to the world favorite George Martin .