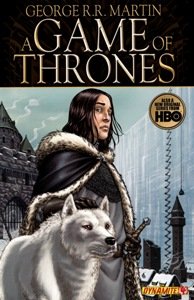 George R.R. Martin's A Game of Thrones #4
Dynamite publisher
Pages: 31
201 year
English comics
Size: 43.72 mb.
Death comes to Winterfell in the fourth installment of Daniel Abraham's thrilling adaptation of George RR Martin's fantasy masterpiece of Game of Thrones . Bran Stark lies broken , in a coma from which he may never wake up. However , its potential killers dare not leave his death to chance. And now is the time to strike . Bran's father , Eddard Stark , went to King's Landing as the Hand of the King . Bran's bastard brother , Jon Snow, rides north to join the brotherhood of the Night's Watch . Robb, born of his brother, has all of Winterfell in his charge. And his mother , Catelyn, is worn out with grieving . Who can protect the young lord ?
Robert Baratheon and his travels back to King's Landing , while Tyrion Lannister following John Snow to the north wall. Meanwhile , Catelyn Stark worries that Bran Stark still has not woken up .