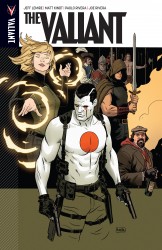 The Valiant
Valiant publisher
Pages: 165
2015 year
English comics
Size: 235.5 mb.
Battle ten thousand years in the making is about to begin ...
Eternal Warrior defended the Earth more than 10,000 years. Master countless weapons and long forgotten martial arts, he is guided Geomancers - those who speak in the world. During his long hours, Eternal Warrior failed three times. Every time Geomancer was killed ... and a new dark age for mankind began. Every time he was unable to stop the immortal enemy - monstrous forces of nature. Civilization killer. The horror of that appears different each time it comes ... and it would seem, whose only goal is to bring confusion and darkness in the world. Now, it's time for Immortal enemy, to return again. But, this time, the Eternal Warrior is ready. This time he has power more than any warrior. This time he has ... heroic.
Presenting a full house saga of the New York Times best-selling authors, Jeff Lemire (bloodshot Reborn, Green Arrow) and Matt Kindt (RAI, Mind MGMT) and Eisner award winning artist Paolo Rivera (Daredevil), to find out why one of the most valiant critics comic publishers in today with the introduction of all the stars in the bloodshot, Eternal Warrior, Geomancer and visionary cast of heroes and villains from the entire universe Valiant - all for a low introductory price of $ 9.99.
Collection valiant # 1-4.