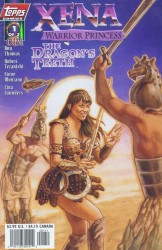 Xena - Warrior Princess - The Dragon's Teeth (1-3 series) Complete
Collections / Other publisher
Pages: 3 issues
1997-1998 year
English comics
Size: 25 mb.
Comics will take you at a time when there was no ancient Greece and the Roman Empire , when all the gods ruled that a penny and did not put human life. And in these dark times appears invincible and fearless warrior that comes to the aid of all who need it , and her name was Xena . Her main enemy - treacherous and cruel warlord Draco . Among her opponents and the other characters - people , gods and monsters , serving the forces of evil . With them, Xena and will have to fight more than seventy episodes .