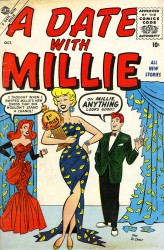 A Date with Millie Vol.1 #01-07 Complete
Marvel / Collections publisher
Pages: 7 issues
1956-1957 year
English comics
Size: 221.6 mb.
Back in the 1960s (although it first appeared in 1940), one of the most frequently appearing character-Marvel was Milli Model which usually appear in at least two titles at any given time. Now, although it is the longest series of Millie the Model Comic around the late 50's she seemed to pick up in popularity and got a new series called date with Millie, but only ran a series of seven questions before he met his end. Of course, this was not the end of the Milli, two years later, a second series is named with the date of the Milli occurred, and lasted seven issues. At the time, Marvel has decided to change the name of the eighth issue, and it became known as a life with Millie, but once again, not be sufficient and, finally, the name was changed to the simulation with Millie with the issuance of twenty-one and taknazvanie left before the series concluded with fifty four issues.