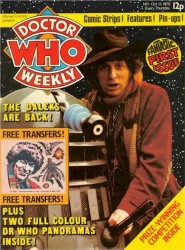 Doctor Who Magazine #01-448 + Annuals + Specials
Collections / Magazine publisher
Pages: 506 issues
1979-2012 year
English comics
Size: 22300 mb.
AKA Doctor Who Weekly / Monthly Doctor Who
publication History
In October 1979 Marvel UK launched Doctor Who Weekly. License to produce Doctor Who comics were conducted by Polystyle since 1964, and the character appears almost continuously in their names , ranging from TV Comic then jump on Countdown ( Countdown TV later action , and finally television action), then back TV in comics. However, in late 1979 Polystyle lost license for Marvel UK, and the first time the doctor was the usual title completely dedicated himself.
This is the longest TV tie-in magazine in the world that has a continuous publication run of thirty-two years and counting (October 1979 to present). It started life as a weekly title, but switched to monthly production in September 1980 , with its 44 - th edition , when its name changed to Doctor Who - Marvel month. Name underwent further minor changes over the next few years , becoming finally a Doctor Who Magazine as # 107.
Doctor Who Magazine has a consistent monthly comics . It's been ten oversized pages. Each issue has features on the show, which included performances of news releases and interviews with actors , retrospectives on past episodes, upcoming episodes in the manufacture of licensed products and reviews .
In addition to the current comics , early issues were back bands like Marvel reprint science fiction stories and providing new stories set in the Doctor Who universe, but with a picture of a doctor.