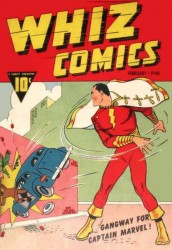 Whiz Comics (1-155 series) Complete
DC / Collections publisher
Pages: 155 issues
1940-1953 year
English comics
Size: 4250 mb.
Whiz Comics #1 does not exist but rather it's non-existence is part of the troubled origins of the Captain Marvel character. Fawcett was trying to secure rights to both the name of their character and title of his series but despite releasing two ashcan first issues (Flash Comics #1 and Thrill Comics #1) in which their protagonist was named Captain Thunder...none of the rights were secured and so Captain Marvel and Whiz Comics were born. Although Captain Marvel was the feature character, like most comics of the period, it was an anthology featuring several different characters. The series had two third issues, which ended up balancing things out and making the fourth issue the actual fourth comic to bear the title Whiz Comics, a labeling it would keep up until the book's 155th and final issue.