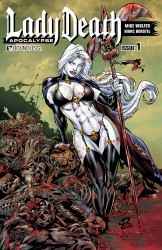 Lady Death - Apocalypse #01
Avatar publisher
Pages: 52
2015 year
English comics
Size: 98.8 mb.
The Queen of the Dead is back to life with an all-new series at Boundless! This super-size # 1 features the start of a new fully-painted series from artist Marc Borstel but also has a giant story-so-far to bring all readers up to speed on previous series and make this a perfect place for new readers to start. Much has changed during Lady Death's absence from the Under Realm, most notably the near-extinction of the warrior class Demons. What devastating effects the demon annihilation will have on the Under Realm remains to be seen, but Hope can not stand-by idly as a convoy of enslaved demons rolls through the night toward its captives' oblivion. As her plans of rising to power depend on the loyal foot-soldiers she abandoned, now she must rescue them at all cost. The biggest Lady Death epic to date kicks off here!
Available with Regular and Sultry covers by Renato Camilo, Wraparound by Pow Rodrix, Auxiliary and Alternate History by Juan Jose Ryp, a special Leather cover by Ryp, a premium Pure Art by Camilo and a Art Deco Retailer Order Incentive cover by Michael DiPascale. Also be sure to check out the amazing Collector Box set and the ultimate collectible CGC Numbered Edition!