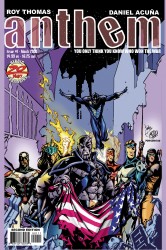 Anthem #01-05
Collections / Other publisher
Pages: 5 issues
2014 year
English comics
Size: 226.7 mb.
Anthem darker saga alternate Earth, and super heroes that have been created to save it. In this world, Pearl Harbor was not just an attack on Japanese aircraft sleepy Hawaiian base. It was a full-scale assault on the West Coast of the US imperial Japanese troops led by towering monster that can absorb ocean of Godzilla, and on the East Coast of the Nazi shock troops ... and Ray shooting flying saucers!
Driven back American interior, desperate survivors father of US anthem project, creating some young superheroes, some of which powers the names reflect the words Star Spangled Banner: Dawn Earlylight, Native American super-archeress stars and stripes, two twins with very special abilities and Rockets Redglare, flaming rocket man BombBurst, very explosive fighter freedom, the living embodiment of proud enemy destroyed the statue in New York Harbor and Stonewall Jackson, rock creature from south Mason -Dixon line. Under the guidance of the mysterious Agent 76, they are fighting force that conquered Europe and Asia, and now I want to trample America as the last maintenance rejection of freedom. And they have the power to do it!
The catch is that the Axis powers were developing their own super-beings, and they have an ace up his sleeve that will give even the Agent 76 and hymn young heroes a run for their money!
Created by Roy Thomas and heroic published editions Anthem followed by super people started to fight the Nazis armed conquest alien technology from the United States.