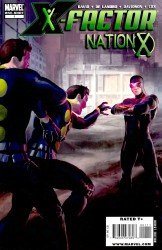 Nation X - X-Factor
Marvel publisher
Pages: 34
2010 year
English comics
Size: 26.4 mb.
The story of two islands:
One is called utopia, floating off the coast of San Francisco, serving as home to most of the remnants of the once populous species known as Homo Superior, aka mutants.
Others call Manhattan, soaring over the Hudson, serving as building ten million people ... and a small group of mutants who call themselves the X-Factor, detective agency that specializes in the needs of super hero and paranormal community.
One of them is going to visit the other.