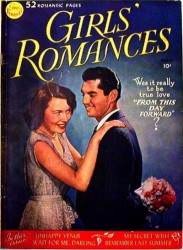 Girls' Romances 1-160 series (127 issues)
Collections / DC publisher
Pages: 127 issues
1950-1971 year
English comics
Size: 3000 mb.
Girls' Romances was a comic book published in the United States. It ran for 160 issues, from Feb-Mar 1950 to Oct. 1971. It covered romance topics like dating and marriage, and was published by the National Romance Group/DC. Roy Lichtenstein based many of his works on panels from the comic.
These series are absent in the assembly: 1, 2, 3, 4, 5, 11, 13, 16, 17, 18, 19, 26, 28, 39, 44, 62, 77, 84, 91, 97, 105, 110, 115, 136, 140, 143, 144, 145, 146, 149, 155, 156, 157