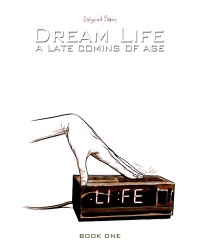 Dream Life - A Late Coming of Age Vol.1
first book
Murder in BC leads to Inuksuk in Ontario. Childhood friend Charlie is going to die. Hitchhiking in luck BC PJ in runs. Lionel is in crisis, the time for love? Leslie therapist and part-time drug dealer. It just happens to her, she hates her job. Six-year-old daughter of Dan thinks he should grow. It can have their views.
Life connectivity and makes you never see coming. History of five friends are faced with unfulfilled dreams and fantasy life. Learning to deal with injuries in their minds, bodies and ideals.
The first two parts of the story, 161 pages cinema, neorealism comic Salgood Sam. The study of personality and destiny of life in the universe may ambivalentnoy.