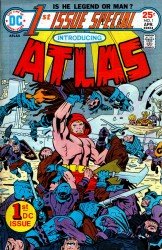 1st Issue Special (1-13 series) Complete
Collections / DC publisher
Pages: 13 issues
1975-1976 year
English comics
Size: 216.9 mb.
1st Issue Special was a try-out book in which a different character or team would headline each issue, a Bronze Age successor of the Silver Age title Showcase. Its most successful feature was Warlord, who debuted in issue #8 and went on to have his own long running series which lasted for over 130 issues. Familiar faces appearing in this title included Metamorpho, The Creeper and Doctor Fate. The title's final issue also launched the return of the New Gods, who branched out into an ongoing series of their own.