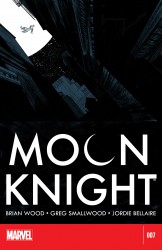 Moon Knight #07
Season 2 of Moon Knight begins with a new creative team and leave the black!
When pushing the whole city in darkness using threats, Lunar Knight must use all his weapons (and individuals) to defeat a new enemy!
Brian Wood (X-MEN, DMZ) takes the reins of writing the place where Ellis stopped pushing the question of the Moon Knight # 1 to the forefront and makes them 100 times!