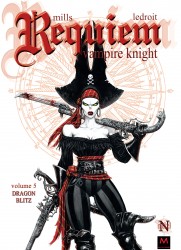 Requiem Vampire Knight Vol.5 - Dragon Blitz
Escaping from SS Satanic with Rebecca in the Grim Reaper, Requiem flying in Dragonheart Blitz. Not Thurim - this Teutonic knight and Requiem for a previous incarnation - can wait in the shadows no more: he takes control and Requiem Fighter repulsed the attack and takes Otto in bold dogfight.
How to Count Dracula and Nero watch the dogfight from the deck of the SS satanic, they came under fire from Gotha bombers Dragon, who are particularly nasty payload. With mental commands stretched to the limit, which reduced inventories Black Opium are essential to support the defense. But emergency power train Black Opium going to have unexpected guests dropping in ...
Volume 5 also introduces the most charming and seductive vampire necropolis in the graph Sabre Eretica, dandy whose love of fine things only surpassed his love of beautiful women ...