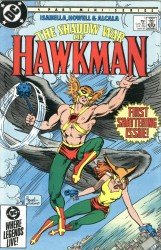 Shadow War of Hawkman #01-04 Complete
Collections / Marvel publisher
Pages: 4 issues
1985 year
English comics
Size: 47.1 mb.
Here Hawkman is designed to prevent an invasion of Earth. This invasion begins in the shadow of the five Thanagarians appear out of nowhere to make a petty thief to try to steal the anti-gravity device Hawkman's website. Hawkman is able to stop such that the theft from occurring, but while he was away, the second detachment attacked his wife, Hawkwoman. He returns to help, only to find her way crashed into the wall, as if by a nuclear explosion!