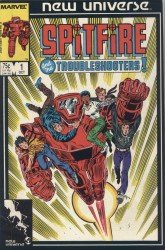 Spitfire & The Troubleshooters #01-09 Complete
Collections / Marvel publisher
Pages: 9 issues
1986-1987 year
English comics
Size: 70.6 mb.
Tags:
Words such as paranormal or super hero euphemisms are used only in comics and films. It was the White event! In one blinding moment landscape of the universe has changed. Welcome to the new universe.
Spitfire and troubleshooting, later known as a Spitfire, and finally , Codename: Spitfire, was a story about a woman and her highly , guy Experimental Technology Enhanced armor. M.A.X. Costume seen it used a lot of use in the new universe, during and after the series. The book was published a total of thirteen issues.
Jenny Swensen , daughter developer of MAX technology gained control shortly after the murder of her father Fritz Krotze, owner Krotze International , a firm that was itself in the domination of a mysterious group of international terrorists . She used it for a while , to avenge the death of his father, to help people and to stop the spread MAX technology itself.