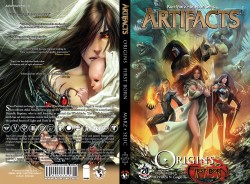 Artifacts Origins - First Born Vol.1 (TPB)
Other publisher
Pages: 210
2012 year
English comics
Size: 155.5 mb.
NOT Sarah Petstsini no longer has the Witchblade. Realizing the danger it would bring to her unborn child, Sarah decided to give up the powerful artifact and handed it to a new carrier, Daniel Batista, who is still learning to control the Witchblade. Looming childbirth puts in motion events that will lead to war between the Angelus and the Darkness, the primary forces of Light and Darkness in the universe.
The stunning, epic crossover Top Cow writer Ron Marz (Witchblade, Artifacts) and artist Stjepan Sejic (Witchblade, Angelus) collected in this complete collection.
First Born is the first volume in a re-branded Artifacts Origins stalls that the study of history that led to the events of artifacts that have changed the Top Cow Universe.
This paperback collects: First Born (# 1 to number 5), Witchblade (# 110 to # 112) and First Born: Aftermath