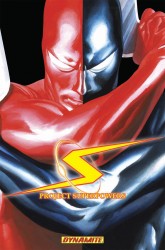 Project Superpowers vol.1 (TPB)
Dynamite publisher
Pages: 266
2014 year
English comics
Size: 153.9 mb.
One of the greatest series of comics publisher Dynamite, JUMEIRAH BEACH RESIDENCE keep a lot of characters from the Golden Age of comics, such as the Black Terror, Daredevil, The Masquerade, The Green Lama and many others, as well as several new, for example Revolutionary such an analogy Lobo, U.S. patriot.
Sobitija series revolves around these particular characters, which after World War II concluded in the Urn of Pandora, and when he returned, they saw the positive and not very stronony modern world, such as practical dictatorship of President superhero and the creation of a huge army of cloned superheroes made ​​them special dislike the Black Terror ...