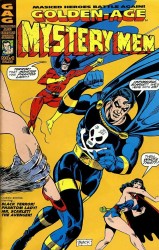 Golden Age Mystery Men #01-17 + Special
Collections / Other publisher
Pages: 18 issues
1996-2001 year
English comics
Size: 170.2 mb.
The comic book history and sharp, clear Golden Age superhero reprints you will find anywhere are the hallmark of this great title, and he is the first issue of the now legendary. Classic black terror adventure ("Eye Of The Lady Snake," from Nedor Black Terror # 23) leads from this rare collection of stories from the 1940s. It addresses one of the most legendary teams of artistic era, Jerry (Batman) Robinson and Mort (Johnny quickly) Meskin. Then the Ghost Lady clashes with "the meanest man in the world", a series of Ajax-Farrel PL. This story from # 4, June 1955 A bunch of battle movie monster come to life as drawn Ernie Schroeder and Magico against the Ghost Rider, a classic in the magazine business, originally seen in Redmask # 45, 1954, as depicted Dick Ayers. In addition, wages Avenger "man of war" from the Avenger # 3, June / July 1955, shows Bob Powell, and impressive Bob Fujitani pit that crimson fighter for justice, Mr. Scarlet against the "Watchmen", from the Fawcett Comics "Wow # 67, 1948 It will take hundreds of dollars to buy all of the original book, these stories come from ... If you could find them !! Bill Black color cover, black and white interiors with graytones. 52-page comic book standard format .