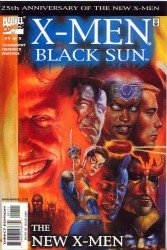 X-Men - Black Sun #01-05 Complete
Collections / Marvel publisher
Pages: 5 issues
2000 year
English comics
Size: 27.3 mb.
The demon known as the Belasco lit the way around the world searching for the legendary Blood . With it, he can open the dimensional portal , allowing all Limbaugh pour into our world ! Enter the Storm , Banshee, Sunfire, Colossus , Night , Wolverine and the new mutant who took the namesake of Thunderbird! But even this command (which is first formed 25 years ago in a giant size X-Men # 1) to stop the fire demon from stealing the souls of their most cherished family member of the original X-Team? All this, plus the return of Magik! But who is this girl in the armor of Eldritch ? She is a friend of the dead ... or a new enemy in disguise?