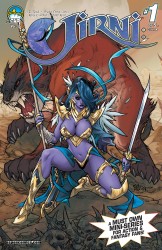 Jirni vol.2 #1
Take the incredible JIRNI with the latest series of the hit Aspen !
In a big city on the edge of the world, Ara finally finds her mother , Moon . But to find it and save it are two very different things - especially with an army of royal guards , destructive d' jinn and the evil witch in her way. It's all been leading up to this , as opposed to Ara truth about herself - her past , her present and even its future ... provided that it survives to see!
After several years of preparation , the creator JT Krul is ready to take you on JIRNI unlike any other ! Accompanied by the incredible talent of the artist Paolo Pantalena and colorist Brett Smith, JIRNI is one you will not want to miss!