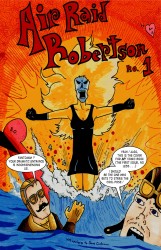 Air Raid Robertson #01
The Adventures Of Air Raid Robertson
Air Raid Robertson is a quixotic aviator who dreams of becoming the foremost adventurer of his surreal world. Ever at his side, and usually spouting off sensible advice that's routinely ignored, is Robertson's faithful sidekick Ridley.
This e-book includes three stories...
"Welcome To The Jungle" - Air Raid Robertson and Ridley crash land in a mysterious jungle. Their only hope of getting home lies through a path containing anteater people, a giant spider, a sorcerer riding a giant turtle, and the fearsome might of the enigmatic Fantomah.
"Let Me Stand Next To Your Fire" - Subterranean monsters have invaded the surface world! No, it's not the mole people. No, it's not the sewer mutants. No, it isn't that weird guy who mind-controls rats. Whoever it is, they won't be able to conquer the upper crust until they get through Air Raid Robertson.
"People Get Ready" - A haven for racist old timey baddies who aren't allowed to appear in modern comics, The Island Of Misfit Supervillains contains the most fearsome gauntlet for our heroes yet! Can Air Raid Robertson and Ridley make it past the cannibals, banditos, injuns, coolies, and other assorted stereotypes? You'll only find out by purchasing comic.