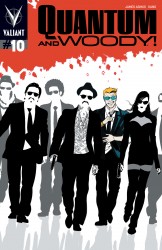 Quantum and Woody #10
Quantum and Woody - against the world ... or against each other?
Woody always had a weakness for the ladies ... and when old love lures goofus gang mad-scientific super-criminals, Woody flips back to his old wicked ways! What effect has a sweet girlfriend Woody clone? And now it's his brother Eric, who is not that sure he even wants to be a superhero to bring Woody! Do not miss this bro down for ages!