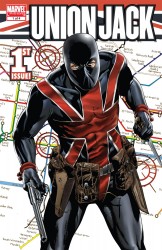 Union Jack #01-04 Complete
Marvel / Collections publisher
Pages: 4 issues
2006-2007 year
English comics
Size: 114.5 mb.
Spinning of Captain America , the Prime Minister of Great Britain super hero has mere hours to prevent multiple terrorist attacks on London from the army of super-villains ! UNION JACK leads Sabra and the new Arabian Knight into battle! But when his boss at MI5 risks innocent lives to bring down the enemy , Union Jack faces a tough choice - and the fate of the London based on his decision.
Do not miss this limited series that redefines Union Jack in the 21st century , with stunning pencils by fan- favorite Captain America Artist Mike PERKINS!
Guest starring : SABRA, Arabian Knight , BATROC LEAPER, Machette, ZARAN, BOOMERANG , CROSSFIRE, Jack O'Lantern , Shockwave, and more! It's all here , baby!