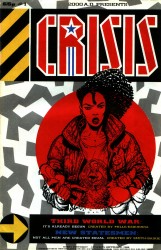 Crisis #01-63 Complete
The crisis was experimental Fleetway comics launched in a bid to tap the growing market for more mature and political comics in the late 1980s.
Companion title to 2000AD, the crisis lasted 63 issues (plus a handful of deals). His early success also saw the release of the second spin-off title, Revolver (though it's only got seven books before they are canceled).