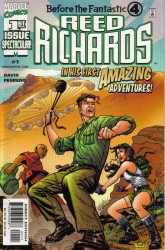 Before the Fantastic Four - Reed Richards #01-03 Complete
Marvel / Collections publisher
Pages: 3 issues
2000 year
English comics
Size: 45.5 mb.
What was the life of Reed Richards ' , as he had previously acquired its fabulous stretching abilities? It was still fantastic ! Follow the intrepid young scientist Reed Richards on globe-spanning journey on a quest to find the mysterious Talon Bast , ancient artifact amazing power ! There 's just one catch , he's not the only one looking for him. You see, the Claw has the power to heal , which makes it very recently requested by Victor von Doom scar ! The top team of writer Peter David ( Captain America ) and penciler Duncan Fegredo ( Jay and Silent Bob ) to take us around the world in a swashbuckling adventure that reveals hitherto undisclosed details in the life of one of the most popular characters in the Marvel Universe !