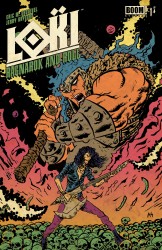 Loki - Ragnarok and Roll #01
Boom publisher
Pages: 25
2014 year
English comics
Size: 39.5 mb.
WHY WE LOVE IT : up -and-coming writer Eric Esquivel first caught our attention with Thor : Thunder neubivaemy Christ , and hit us with their work on freelancers . When he told us that he wants to bring these feelings to the trickster god Loki, we had to say : "Yes!" Pairing it with Fanboys VS Zombies artist Jerry Gaylord sealed the deal .
Why you 'll love it : Loki out of the shadow cast by his thunderous brother as Norse mythology intersects with the only thing in the world like a wild and crazy ... rock and roll !
What it is: What happens when Odin banishes Loki to Earth? He finds a world of outcasts who appreciate your style! While his relatives sharpen their weapons , he raises an electric guitar.