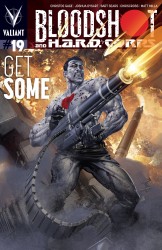 Bloodshot and H.A.R.D. Corps #19
"Get Some" - Part Two! Bloodshot and H.A.R.D. Body to fight for more than they bargained for!
When a routine rescue mission goes horribly wrong, director Kozol taken captive group of white mercenaries psiot vital key to the past bloodshot website. The team struggle to save the life of Kozol ... and they did not even want it! Duck and cover - because you just fell into the middle of the Arabian desert for a super-powered shootout on pipeline exploded!