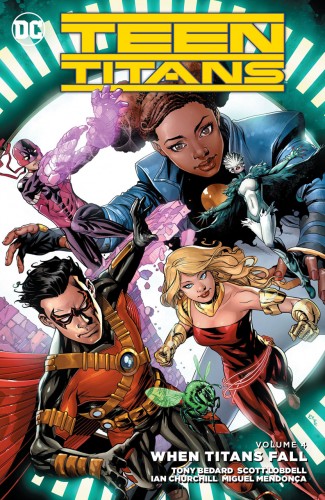 Teen Titans Vol.4 - When Titans Fall
The Teen Titans should be keeping a low profile. After all, a misunderstanding has left them wanted criminals, on the run from the law. But when Red Robin, Beast Boy, Wonder Girl, Raven, Power Girl and Bunker see people that need saving-whether it's from a rampaging French gorilla or a designer drug that turns them into mindless beasts-they spring into action. That's what being a Teen Titan is all about.
Unfortunately, if you're a metahuman who's a wanted criminal, you're going to find yourself in Amanda Waller's crosshairs! The master manipulator wants the Teen Titans for her Suicide Squad, and she's determined to prove that the Titans are just as dangerous as her hardened criminals.
But if the only thing keeping these heroes from becoming outlaws is when the Titans stand together, what happens when one of their own pays the ultimate price? Is this the end of the Teen Titans as we know them?
Writers Tony Bedard (SUPERGIRL) and Scott Lobdell (RED HOOD AND THE OUTLAWS) and artists Ian Churchill (THE RAVAGERS) and Miguel Mendonça (WONDER WOMAN) set the stage for the rebirth of the Teen Titans…by tearing the team apart! Collects TEEN TITANS #20-24, TEEN TITANS ANNUAL #2 and a special preview of TEEN TITANS: REBIRTH #1.