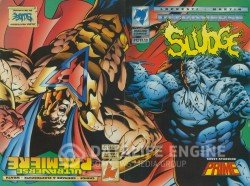 Sludge #01-12 Complete
Other / Collections publisher
Pages: 12 issues
1993-1994 year
English comics
Size: 140.6 mb.
The creature, sludge, selected from the sewers in Manhattan right in the middle of some of the gang members performing a drive-by.
It inhibits their car, so they decided to try and kill him. After being shot and stabbed sediment learns of his healing abilities. Also, for the rapid growth of the cells in contact with human skin.
We will learn about the origin of sludge, a crooked cop named Frank Hogan, who refused to kill another officer of the law. He continued in the course of construction and took off in the lab, and left where chemicals are mixed with his body, creating sludge.