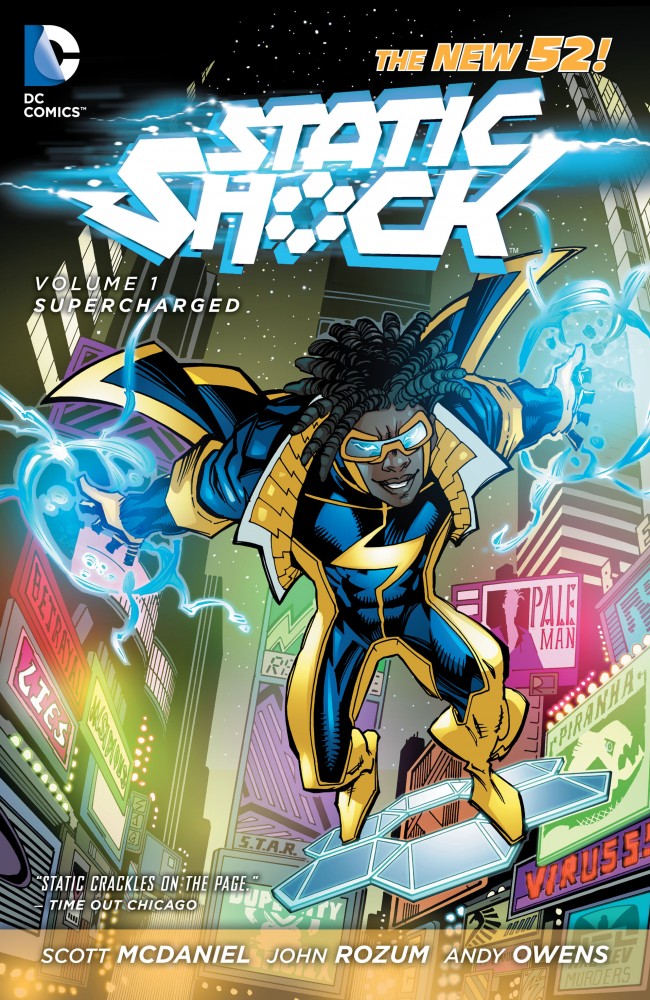 Static Shock Vol.1 - Supercharged
DC publisher
Pages: 184
2012 year
English comics
Size: 264.9 mb.
Tags: Static Shock DC
Collecting the DC COMICS – THE NEW 52 series! When high school student VIRGIL HAWKINS relocates to New York City, he'll have to battle a whole new kind of evil in the form of the Slate Gang, Piranha and more! Collects the new STATIC SHOCK #1-8 – the entire NEW 52 series!
Back Blurb
GET A JOLT WITH NEW YORK CITY'S BLAZING NEW HERO
Virgil Hawkins maybe a small-town kid, but his skills are Big Time. For he is none other than the smooth-talking, energy-manipulating teenaged superhero Static!
New Yorkers have taken note. So has a consortium of the city's biggest underground bosses. When first the Slate Biker Gang and then Piranha and the Pale Man (looking suspiciously like a certain psychotic clown...) lead an army of pharma-mutated thugs against him, Static and his family are in for a Big City welcome. Still, Virgil can't decide what's more shocking: these new enemies or just how powerful he's turning out too be.
In STATIC SHOCK VOLUME 1: SUPERCHARGED collecting issues #1-8, writer JOHN ROZUM (XOMBI, COBALT) writer/artist SCOTT MCDANIEL (BATMAN, GREEN ARROW) and artist ANDY OWENS (NIGHTWING, SUPERMAN) present Static, the every-teen's stunning new champion!