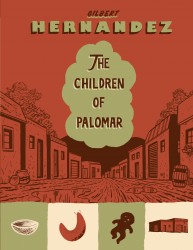 Children of Palomar
Other publisher
Pages: 114
2013 year
English comics
Size: 103.9 mb.
Children Palomar is the long-awaited return of Gilbert Hernandez's Palomar small Central City , more than a decade after his last "Heartbreak Soup" stories . Originally released as three issues of the magazine series called New Tales of Old Palomar in the acclaimed international format "Ignatz", these stories are finally collected in one beautiful book.
All of these stories deal with the classic characters Palomar, such as sweet Pipo, her sharp tongue sister Carmen , Sheriff Chelo and the gang of boys who helped start it all: studious Heraclio, high and fairies Israel, disfigured , but goodnatured Vicente, and a girl - crazy Jesus and Satch.
In the first story , "The Children of Palomar, " mysterious , fast-moving thieves steal food from there , where they can grab it , Sheriff Chelo and some citizens are doing everything possible to solve this mystery , but no one seems to be able to catch these bandits in action until Pipo puts her soccer -trained legs and goes to work for them herself. Second , Gato, Soledad, Guero , Pintor, and Arturo go exploring the bottomless abyss and come face to face with ... well , we will not spoil the surprise . The third and final story focuses on one of the most beloved characters Palomar, so gorgeous, but worried TonantzГ­n: All in Palomar seems to take the supernatural with distrust, but the young TonantzГ­n determined to uncover the mystery of a laughing baby that appears only to her , haunting her daily life . What is the link to the baby giant stone idols that stand outside the small town of ... ?