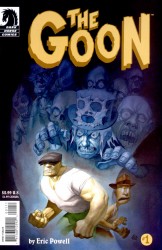 The Goon (Volume 3) 1-44 series
And even the dead are afraid of him ! Here is a comic book series about rough bumpkin and his little friend Francis ErikuPauellu brought fame and appreciation among the masses of artists cartoonists . Gong and Francis restoring order ( and perhaps confusion ) in the town staroamerikanskogo style and architecture, overrun by zombies , all sorts of absurd comedy characters and of course the girls of indescribable beauty .
Genre of the story can certainly be defined as a thrash (by analogy with the company Troma movies ) but here is a great cartoon style Eric, who from volume to the changes and progresses, does not leave the impression of something quite cheap (made in haste ) . In short you will
great artistic performance and weight of reckless humor.